Kopparfjellet. 911 m.o.s.l.
Good to know:
Kopparfjellet is around 911m.o.s.l.  and it takes about 2,5 – 3 hours to walk to the top, to Kopparfjelvatnet it takes about 2 – 2,5 hours to walk.
It not hard to go to Kopparfjellvatnet, It's a little bit harder to go to the top of Kopparfjellet.
The best route ↓↓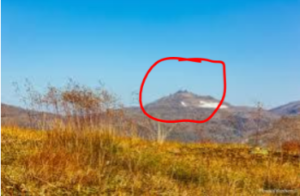 The top you see on the picture, in the horisont is Kopparfjelltoppen.
Route description:
The trip is about 8,4 km. You can walk from Skitdalshøgda, Skitdalshøgda is 12 km form the E6 – E10 cross. You can park on the left side, on the parking place. In within the forest for the parking place, it's a hut. Go in the direction of the hut, then you revolves to left you will see the path, just going over the stream. Go on the path in a northwesterly direction. After around 600 – 700 meters the path splits, there it splits go to the right (north). After about scarce 100 meters revolves the path northwest along the south side of stream, and cross the stream around 250 meters higer. Here you meet the traces to an terrain vehicle.The traces extends the hole way up to Neverfjell vannet.
When you come to the top of the vessel, you must leave the path and revolve 90-degrees to left (west), when then you follow the back just leading up against Kopparfjellet from south. The mountain have two peaks divorced with an gorge. The highest of this peaks is on the south side the kloof, it just have an carin and an trigonometric point.
Go the same way you come back.
Annonser
---