This is Stetind Natjonal mountain.
Stetind is Norway`s national mountain, 1.392 above sea level. The mountain is localized in Tysfjord municipal, north of norway. Stetind is located in the municipality of Tysfjord, about 90 km south of Narvik.
The mountain Stetind is a well known landmark for the salers along the coast. The vertical steep mountain looks like an an evil, rises majestically from the sea. Stetind was in 2002 selected as Norway`s national mountain, and it also a favored place for peak climbers. The known professor and philosopher Arne Næss established himself as King of Stetind when he in the late 1930`s introduced bolt climbing in Norway. A number of impressive technical rotes brought him to the top.
By car from the south you take the E6 and cross the highway 827 towards Drag 15 km north of the entrase. Take ferry from Drag to Kjøpsvik and follow road 827 in 13 km to the parking lot at the foot of Stetind. From Narvik to Stetind it takes about 1 hour and 13 minutes. From the foot of Stetind and to the top it takes about 12 hours.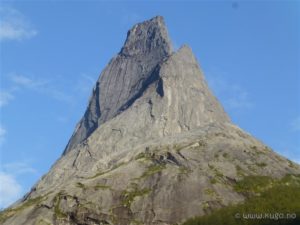 Annonser
---